We've collected 15 of Our Favorite Breakfast Recipes from The Step Stool Chef and other sites we love. Follow the links below and have your little chef give them a try! 
1.  Three Layer Strawberry Pancakes: Try these pancakes with your little chef for a yummy recipe that looks impressive, yet is quite simple to make!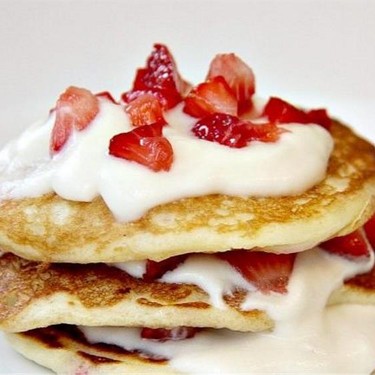 2. School Morning Breakfast Burrito: On busy school mornings, whip up these burritos within minutes for a hearty & filling breakfast!
3. Fruity Yogurt Parfaits: For a perfectly sweet & delicious recipe for your dairy-loving kids, try these fruity parfaits!
4. Easy Sweet and Salty Granola: When we're talking flavor & taste, your family will love this sweet and salty granola! It's perfect for making a large batch ahead of time and having breakfast on-the-go!
5. Easy & Creative Breakfast Toast: Kids bored of simple butter and jam toast? Get their creative juices flowing to concoct a new recipe! It's a great way to get them to eat more fruits & veggies, too!
6. Breakfast Muffins: For a savory sausage, egg & cheese muffin, try our favorite breakfast muffins! They're easy to store and reheat on busy mornings, too!
7. Berrylicious French Toast Casserole: The only thing better than a make-ahead breakfast is one your kids can make themselves! Your family will love this berry-filled french toast casserole!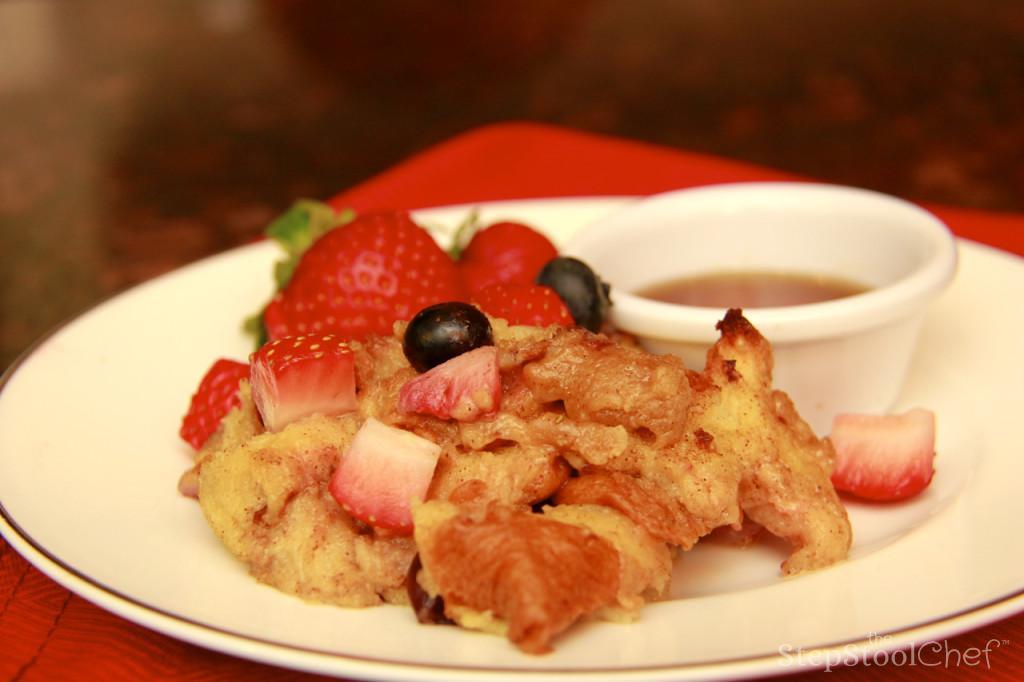 8. Breakfast Kabobs with Maple Fruit Dip: For a fun breakfast that doubles as a food craft for the kids, try these breakfast kabobs with delicious dip!
9. Heart Shaped Bacon & Eggs: Perfect for brunch or special occasions, your little chef will enjoy putting their "heart" into this breakfast recipe!
10. Healthy Strawberry Oatmeal Bars: Breakfast or dessert?! Your kids are sure to love these healthier strawberry, oatmeal bars!
11. Easy Pancake Muffins: These pancake muffins are so fun & yummy for your kid chefs to explore their creative baking skills!
12. Party Pancake Poppers:  Here's a fun and easy twist on a breakfast classic that kids can make all by themselves.  Perfect for birthday breakfast or anytime you want to turn breakfast into a celebration!
13. Apple Cinnamon Muffins: For an irresistible apple-cinnamon combo, try these muffins! Make a double batch and enjoy them all week for an easy-to-grab breakfast.
14. Scrambled Eggs: Learning to make scrambled eggs is a must for every little chef. Take a look at these easy step by step instructions which makes learning a breeze. Plus there's a video!
15. Apple Quesadillas: Most kids wouldn't think to use fruit in a quesadilla. But once you try it… you will love it! Plus, it's a fun way to add fruit to breakfast.
---